More than often, people replace their carpets because of excess grime, dirt, or multiple stains. But did you know that your carpet's lifespan can be increased just by applying some preventive care to it from time to time? Hiring professional carpet cleaners in Sterling Heights MI on a regular basis, or getting a carpet restoration in MI can help your carpets stay looking brand new all the time. It will also extend your carpet's life quite a bit.
Of course, there are other benefits as well. So why get a carpet restoration in Sterling Heights, Michigan? Well, the air quality inside your home also improves by having your residential carpets cleaned or restored Sterling Heights MI.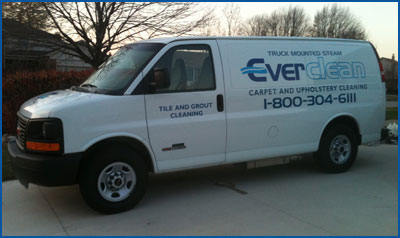 We take care of carpet-related problems that may seem like a nightmare to you. But they are just an everyday occurrence for us at Everclean Carpet and Upholstery Cleaning. We provide a multitude of services to our customers looking for professional carpet cleaning in Sterling Heights or other surrounding Macomb county MI cities, including:
Professional pet stain or odor removal
Sanitizing with minimal drying time
Deodorizer for carpet freshening
Teflon Protector to protect & extend your carpet's life
High quality hot water extraction in Sterling Heights, Michigan
Did you know that hot water extraction or "steam cleaning" your carpets in Sterling Heights, MI provides excellent results and helps protect the investment that is your carpet? We use a state-of-the-art truck mounted steam cleaning system when carpet cleaning at Everclean, and we get unbeatable results doing so.
While many companies are spending big bucks on commercials or other advertisement techniques, we at Everclean are investing in our products, improving our equipment to improve our quality of work. We do this to make sure that we uphold our reputation as a local Michigan, state of the art carpet cleaning company in Sterling Heights and give our customers the best results when they contact us for help.
When we say we are an affordable carpet cleaning company in Sterling Heights MI we don't mean we're so cheap that we get in and get out and do a lackluster cleaning job. We are family-owned and operated and have been treating your carpets like our own since 1988. We know that you look for an affordable carpet cleaning company in MI that won't sacrifice price for quality, so we provide you with exactly what you are looking for.
So when you ask "who provides quality residential carpet cleaning or restorations in Sterling Heights, MI?" the answer is right in your own backyard at Everclean Carpet Cleaning. So what are you waiting for? Contact us today!