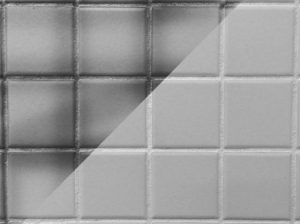 Dirty tile and grout can quickly make any clean room look dirty and gross. Even with regular cleaning your tile and grout can become discolored, especially with how much work cleaning tile  and grout is. You have to deal with the mess, the tediousness, and even if you are able to get the surface clean there is still a chance of dirt and bacteria living deeper in the grout.
If the task of getting your tile or grout clean is making your head spin, let us help. We here at Everclean Carpets can come in and get your tile and grout looking brand new! We're more than just carpet and upholstery cleaning! We use our state-of-the-art steam cleaning tile and grout tools to get your tiles clean and your grout looking brand new. The trick is that we use pressurized water that is over 200 degrees that will sanitizes and kill any lingering bacteria. This machine extracts any excess moisture and leaves you with clean tile and grout with minimal drying time.
Professional Tile and Grout Cleaning In Metro Detroit
Now you can get your kitchen, bathroom, and other tiled rooms cleaner than you've ever seen while eliminating soap and pesky mineral deposits. You'll be able to enjoy the benefits of clean tile and grout. We offer free quotes for residential cleaning services, get yours today!
Have a larger, commercial area that you need cleaned? We can get your commercial business or restaurant's tile and grout clean and looking new. We've worked with businesses and restaurants in the Sterling Heights, Warren, and great  We will work with your business hours and schedule to make sure that your business won't be affected. Your customers will notice the difference!
If you're looking for the best commercial grout cleaning company, then look no further. Everclean Carpet and Upholstery Cleaning are trained professional that will get your commercial grout and tile cleaning done quickly and efficiently.
Get your free quote today on your next commercial or industrial tile and grout cleaning service!