Just because the word "carpet" is in our name doesn't mean we don't know our way around a hardwood floor! They can get scuffed up, marked, or scratched and actually need more maintenance than you may think. From basic and deep cleaning to mark-removal, if you were looking for some pointers on how to clean your hardwood floors in Southeast Michigan, you've come to the right place!
Dusting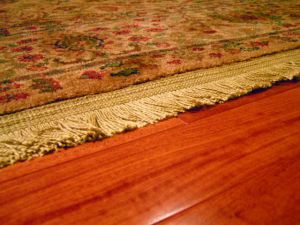 Glazing over your hardwood floors with a mop that has been treated with a dusting agent will allow it to pick up any dirt, dust, food particles, or pet hair that is on your floor. If you choose to dust it with a bucket of hot water, make sure your mop is wrung out completely, to the point where the mop is only slightly-dampened.
Heavy Care
If you want your floor to really shine, maybe to impress guests during the holidays, using a diluted wood-cleaning product will remove the deep-rooted oil and grime that a basic dusting won't always take care of. Once you've run your mop across the floor be sure to clean up any leftover liquid, as water can damage wood surfaces once it dries up. Those with real wood floors shouldn't be afraid to try a combination of white vinegar and warm water. It won't damage the finish or leave residue. One gallon of water and one cup of the vinegar should do the trick!
Mark and Scratch Removal
Soft scratches can be taken care of with a soft cloth and standard hardwood floor cleaner. For dark spots, steel wool and floor wax works well. Lightly rubbing steel wool over most soft scratches, heel, or water marks will usually remove them, but you'll want to rub deeper scratches with some lightweight sandpaper. After that, smooth out the sanding with mineral spirits (mineral turpentine), before sealing the scratch with some wood-filler. Finally, wipe up any remaining dust and then seal the the sanded area so your floor looks like it was never scratched at all!
Contact us at Everclean if you have any questions or would like to move on and tackle that carpet in your living room or bedroom next. Don't forget to take advantage of our great special offers before they expire at the end of the year!