An area rug can be a stylish addition to your home. If you already have one then we don't have to tell you that! They go great over hardwood floors in any room of the house. But just like your carpets need maintenance and cleaning, so do your area rugs. They trap in mud, dirt, odors, dust, and all other variables provided by your pets, kids, or constant foot traffic.
You obviously want to lengthen the life of your area rug but in order to do that, you can't always approach it the same way you would your carpets. There are many types of area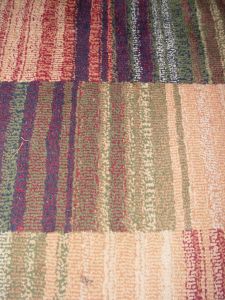 rugs and they can be very delicate. Their specific cleaning processes can vary depending on the material they're made from, and the care they each require can sometimes be completely different from a professional carpet cleaning.
Cotton/Synthetic Rugs – Smaller cotton or synthetic rugs are safe to machine wash in warm water and with mild detergent, while larger rugs should be beaten and vacuumed. Be careful about having your cotton rug steam cleaned as it can fade its color and appearance. Should your cotton rug succumb to a stain, it will require hand treatment. Dabbing with a dry towel and then more dabbing with a slightly wet towel will do wonders. Combinations of ammonia and hydrogen peroxide can be used to take care of those hard-to-remove food or drink stains.
Natural Fiber Rugs – Both the over and underside of your natural fiber rugs should be vacuumed each and every week. Dry extraction processes should be the extent of work performed by professional cleaners. Natural fiber rugs don't take well to steaming or shampooing because of the rich dyes that tend to bleed or discolor when exposed to chemicals. Spills should be blotted as soon as they occur, using a clean towel.
Silk Rugs – Silk rugs are one of those delicate rugs that should also be vacuumed on a weekly basis but on a low suction setting. It's best to have silk rugs professionally cleaned every couple years by silk or antique rug experts. Spills should be blotted with a towel, doused with water and then blotted a second time. Do not rub, however. Repeat the process until the stain is eliminated.
Keep these tips tucked away if you do sport area rugs in your house. Especially ones that need some tender loving care after a rough winter! Don't be shy to contact us today, either, for more tips or to have carpets in the other rooms of your house professionally cleaned this year!